We want everyone to stay healthy and work safely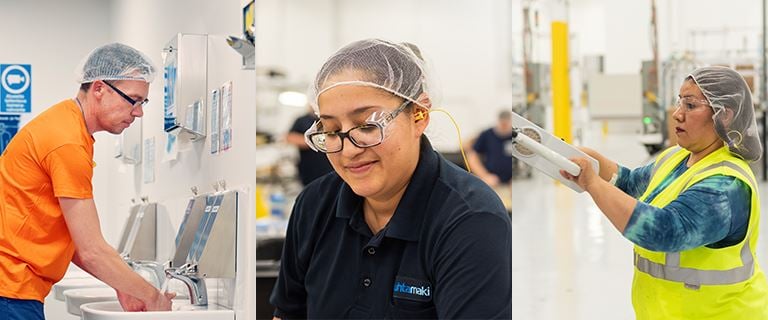 For talent to thrive, we must provide our people with a safe working environment. This means focusing on improving our OHS performance, building our capabilities and competencies across the organization and shaping a zero-accident culture – continuously, until we can truly become an accident-free workplace.
We are building a safety culture and strive to ensure safety for everyone, everywhere. Our ambition is to develop a global mindset where nobody gets hurt and everyone goes home safe at the end of the day.
Health and safety is one of the core elements of our sustainability agenda, and one of the essential KPIs on our sustainability dashboard, which is discussed in the Global Executive Team and presented quarterly to the Board of Directors.
Our health and safety targets are as follows:
Health and safety
2030 goals
Our ultimate goal is that nobody gets hurt. The target for Lost Time Injury Frequency Rate (LTIFR) for 2022 was 2.16.
We want everyone to go home safe. The target for Total Recordable Injury Frequency Rate (TRIFR) for 2022 was 3.86.
Performance in 2022
LTIFR was 1.5 TRIFR was 3.7
Steps we are taking to deliver on our commitments
After outlining our global 2030 Occupational Health and Safety (OHS) ambition and targets, we identified the key building blocks to enable us to realize this goal. One of them is to ensure a high level of health and safety competencies across the entire organization. Another element is the continuous development of KPIs that not only aim at reducing the number of injuries globally, but also strive to prevent the reoccurrence of a health and safety issue. In addition to tracking lost time and medical treatment injuries, we have also begun to follow up on learnings from lost-time injuries.
Automation and digitalization form the third key building block. Automation has the potential to minimize human error. In terms of health and safety digitalization, we can become more efficient in sharing best practices across factories and sites by offering a platform that enables anyone to easily report situations which could potentially cause an incident.
Developing a global company mindset whereby nobody gets hurt and everyone goes home safely at the end of the day entails a cultural change. Such a shift takes time. Changing our culture requires not only implementing robust processes, but also addressing behaviors and picking up habits and routines that enhance safety consciousness and safety accountability.
The development of our health and safety performance: