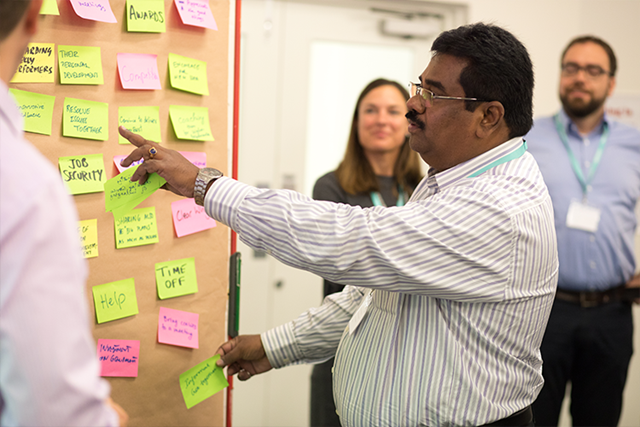 Professional growth enables us to carry out our ambitious growth strategy in a fast-moving, complex and ambiguous business environment. This requires consistent leadership.
Delivering high performance on a day-today basis requires our leaders to continuously
learn and adapt. We have strengthened our management succession planning by identifying and developing internal candidates for leadership and other key roles. We have several initiatives that aim to give our leaders the tools they need to strengthen their leadership.
Commonly agreed Huhtamaki Leadership competencies were introduced in 2016 in order to establish clear expectations, consistency and accountability for leadership behaviors across Huhtamaki. Those competences were introduced more widely and included in our leadership development programs, assessments and tools in 2017.
Leadership programs provide practical tools and frameworks
We have designed two new global leadership development programs to prepare our leaders
for future challenges. The first one, 'LEAP', supports the development of individuals on
management level into more senior roles in the organization. It focuses on practical, easy-to-apply tools and frameworks on topics such as strategy awareness, self-leadership, business communications, facilitating change and effective delegating.
The second program, 'Raise My Game', has a more strategic approach, focusing on helping
our more seasoned leaders to drive growth and re-energize themselves as leaders of teams and organizations. The trainings involve approx. 50 people annually, as well as senior management.
Leader's toolbox
To make the most of the tools and learnings from development programs, we introduced
a digital, always available 'Leader's Toolbox', designed to equip all our leaders with effective tools to succeed. They are easy-to-use, practical models for team building, coaching, goal setting and negotiations.