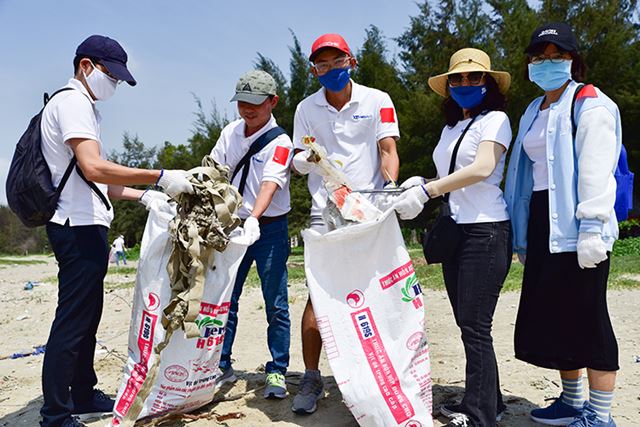 "The Circular Economy Network led by WasteAid and funded by Huhtamaki has been instrumental in connecting early stage start-ups with industry expertise," emphasizes Sam Wood, Deputy Head of the British Consulate in Ho Chi Minh, Vietnam.
"Through investments and financing, smaller players are able to scale-up and develop initial concepts into meaningful projects for the long run. I believe this brilliant initiative is a move in the right direction, and I look forward to its next stages brought to life."
Greater impact through collaboration
Huhtamaki has partnered with international charity WasteAid to drive business innovation for a circular economy in India, South Africa, and Vietnam. Operating through the Circular Economy Network, a platform created to help tackle some of the most predominant climate and environmental issues, the network is accessible for individuals and business entities who have an interest in advancing the circular economy locally. Huhtamaki partnered with WasteAid as it has exemplary waste management expertise in communities with a positive impact in local systems.
Making a difference where it matters most
Currently, only a fraction of the waste generated in Ho Chi Minh, Guwahati, and Johannesburg is recycled. The remainder is either dumped or scattered across the local environment. Huhtamaki and WasteAid agree that innovations in local systems are essential to developing a green economy, which in turn creates a cleaner and healthier environment for the local population. WasteAid's Zero Cities Challenge is an initiative to find six entrepreneurs with innovative ideas to increase recovery and reuse of waste. Over a hundred entries were collected and thirty-six entrepreneurs were selected to receive business incubator support to go through an 8-week intensive business support program.
The range and depth among the entries were inspiring: from providing refill solutions to digital apps connecting waste collectors and households, as well as companies recycling low value plastics into useful materials, and others focused on food waste recovery. A final pitch to industry experts was held in each region, where six winners were chosen and awarded €10k for their concept.
Huhtamaki staff took part through several on-the-ground partner events:
South Africa, a networking culinary event was organized to showcase the ongoing work of entrepreneurs to divert food from landfills
Vietnam, a beach clean-up campaign with the aim of demonstrating circularity
India, a riverside clean-up with segregated waste collection. The event also included a training and education section on home composting techniques
"Huhtamaki supports global sustainability initiatives with a local impact – acting today, educating for tomorrow, and funding innovation for the future," says Loi Ho, Huhtamaki General Manager, Vietnam "We aim to make a difference where it matters most, helping to address global sustainability challenges by building circular economy initiatives. As a Huhtamaki representative, I am proud to be part of a team that supports the participants of WasteAid's Zero Waste Cities Challenge in realizing their ideas. As a Vietnamese citizen, I am pleased to see that these projects will help my local communities."
Visit the Winners of the WasteAid Zero Waste Cities Challenge - WasteAid to hear more.