Our approach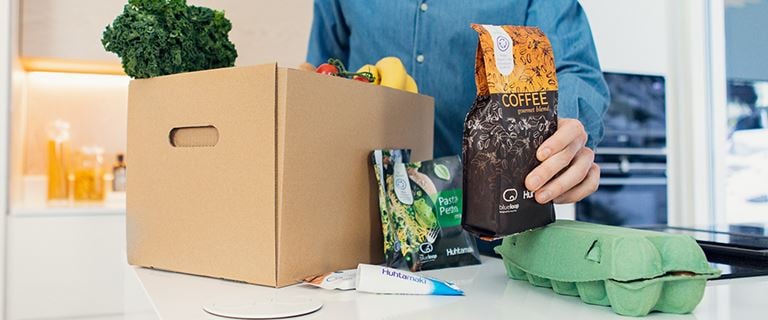 Today's food ecosystem faces serious challenges. 25 percent of global greenhouse gas emissions comes from food systems and one-third of food produced is lost or wasted. This is where well-designed packaging can help, by preserving food for longer, preventing food waste and improving food safety.
Packaging has a fundamental role in building sustainable and resilient food systems globally. But just as with all innovations, there are challenges to be dealt with. Each year over eight million tons of plastic packaging enters our oceans and recycling rates across the globe remain pitifully low.
There is the paradox. On the one hand, society wants to see fewer materials used, less packaging waste and less litter. On the other hand, it also wants safer products, less food waste and a longer shelf life. The debate should not be about more or less packaging. It should be about how we make packaging smarter and more sustainable with better end-of-life management; packaging that considers the full environmental, social and governance impacts.
Our sustainability approach covers environmental, social and governance pillars:
Environment
Design for circularity
Climate action
Minimizing our environmental footprint
We are driving the transition to a carbon-neutral and circular economy by: using renewable, natural resources, focusing on waste management, ensuring our products are recyclable, compostable or reusable and minimizing our environmental footprint across the value chain by focusing on designing for circularity and promoting sustainable end-of-use for packaging.
Social accountability
Working conditions
Human rights
Local communities
Our social responsibility focus is on securing good working conditions across all our operations globally, safeguarding human rights across the entire value chain and ensuring fair employment practices for everyone, everywhere. We invest in developing our talent and are building diversity and inclusion into the ways we work. We are committed to being good corporate citizens with a positive impact on the communities we operate in.
Governance and ethical business practices
Ethics and compliance
Global Code of Conduct
Corporate governance and management policies
Responsible sourcing
Corporate Governance is a basis for how we work and how we are organized. It is important both internally and externally and applies to every one of us. Internally, it starts with and is built on our values: Care Dare Deliver. We value integrity and we want to do what is right, wherever we are in the organization. We are also committed to ensuring our suppliers adhere to the same high level of integrity and that we work with responsible suppliers across all our operations globally.
Our sustainability governance structure
At Huhtamaki, sustainability is ultimately governed by the Board of Directors and at the operational level, by the CEO, the Global Executive Team, the Sustainability Global function and other senior staff across the different business units. The Board is the highest body to approve the guiding policies for sustainability and outline sustainability principles regarding our strategy. It monitors and evaluates the risk management activities of the Group, including the sustainability risks such as climate-related risks. It approves the risk level that Huhtamaki is capable and prepared to accept and the extent to which risks have been identified, addressed, and followed up.
In 2021, a Sustainability Steering Committee was founded at Group level, with the mission to steer transformative sustainability initiatives. The Sustainability Committee is a steering committee consisting of the Business Segment Presidents, CEO, CFO, EVP Business Development and Innovation and a cross-functional working group. It is chaired by the EVP Sustainability and Communications. A separate steering committee was established to support the implementation of the group-level energy strategy.
Our sustainability performance is tracked regularly in our operations: at the manufacturing unit, business segment and Group-levels. The results are collected and monitored at Group-level in the sustainability dashboard which is discussed in the Global Executive Team and presented quarterly to the Board of Directors.
In 2021, Huhtamaki introduced the Global Sustainability Index (GSI), which links the short-term incentives of the President and CEO, as well as other members of the Global Executive Team to our sustainability performance. The index tracks Huhtamaki's progress towards its 2030 sustainability ambitions. KPIs within the index are linked to the sustainability dashboard and relate, for example, to the share of renewable or recycled materials, the share of renewable electricity, and the share of non-hazardous waste recycled.
As of 2022, the GSI will also be applied as a business objective for all employees working in Global Functions and taking part in the short-term incentive plan. As for the rest of the employees within the short-term incentive plan, there is a requirement to have at least one site- or segment-specific sustainability-related personal objective that is linked to the sustainability dashboard. Linking remuneration and sustainability further strengthens Huhtamaki's commitment to sustainability and drives actions to help achieve its ambitious targets.