Food trays
We offer an extensive line of food trays, cartons and boxes in a wide range of popular shapes, sizes and functions. All products are made from renewable resources and are available as shown, featuring a popular stock print or custom-printed to enhance brand recognition. In addition, our trays, cartons and boxes can be customized to include windowing, double-sided printing, aqueous coating or custom sizes, ensuring you have everything needed to meet customer demand.
Variety of Sizes and Prints
Huhtamaki can create a line of custom-sized and -printed food trays, cartons, and boxes to fit your unique foodservice or branding needs. Minimum order requirements will apply.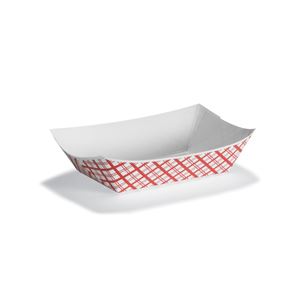 Food Trays
Our food trays are available in a variety of sizes, ideal for any foodservice application. Featuring a grease barrier that guards against leaks, all food trays include a nestable design that saves on storage and enables efficient customer service. Food trays are available in traditional stock print, but can also be custom-printed.