Tableware
We offer a full line of single-use tableware, including plates, platters and bowls in a wide variety of popular sizes and designs. Products are available in molded fiber, paper and plastic with options to meet every budget and every need, ranging from simple back-of-house preparation to premium front-of-house presentation.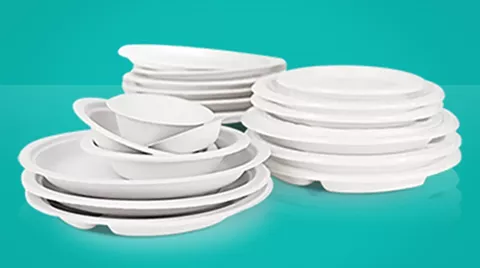 Molded fiber
Molded fiber has long been a staple in our portfolio, as it's the perfect blend of performance and sustainability. Available in rough and smooth formats, molded fiber offers the strength needed to handle heavy dishes, and the environmental benefits of being both compostable and made from recycled materials.
Plastics
Our range of reliable, premium-strength plastic plates and bowls are perfect for serving food in-house or on-the-go. Leak-resistant and easily stackable, Our plastic products are available in heavy-weight formats, in either black or white. Choose single or multi-compartment plates, along with dome-shaped, tight-fitting lids to ensure food travels safely and securely.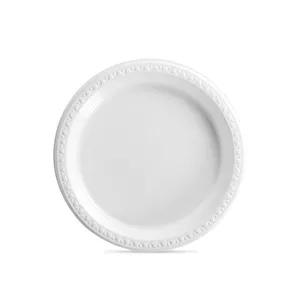 Heavyweight plastic tableware
Trust your heartiest meals to our heavyweight plastic plates and bowls. Available in a variety of sizes and options, heavyweight plastic looks great and performs even better. The embossed rim and high-gloss shine complement any dish, and the strong cut and leak-resistant material ensures a reliable customer experience. Plus, our heavyweight plates and bowls stack and de-nest with ease, helping you save time.
Paper
Our paper plates offer the perfect combination of convenience, value and variety. Available in a range of popular sizes, We offer both coated and un-coated paper plates to match any budget or any customer need.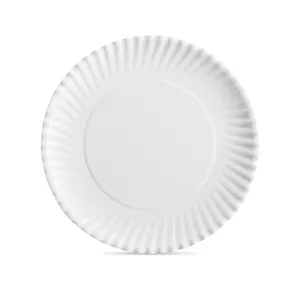 Paper tableware
Pressed paper plates are our newest offering, completing a now fully-inclusive line of disposable tableware. Proudly made in the USA, coated and uncoated paper plates are grease-resistant and microwave-safe. Available as shown, our paper plates are also available in a variety of sizes, in stock or custom prints for maximum versatility.