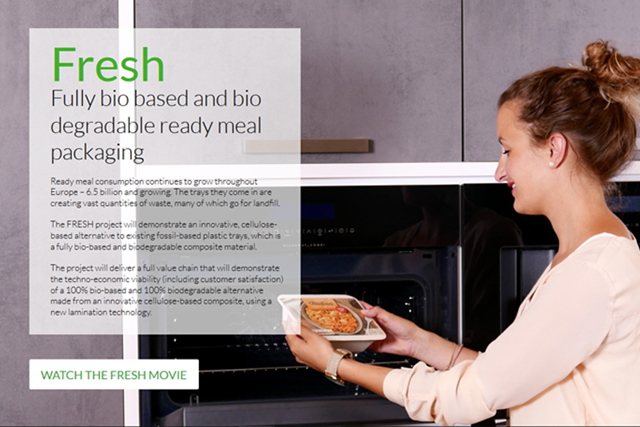 A trial version of a renewable fiber based ready meal packaging will be tested with consumers in the UK starting end May. Huhtamaki is part of a three-party consortium developing an alternative to existing plastic ready meal trays.
The concept is tested with two Italian style ready meals at a major UK retail chain in May-June. The trial is part of a project aiming at developing a bio-based ready meal package for the UK market. The new tray offers a viable alternative to black plastic packaging, which is problematic for the waste processers' lasers that identify materials for recycling.
Ready meal consumption continues to grow throughout Europe and new sustainable solutions are welcome. The new material feels like cardboard and is made of fiber derived from Forest Stewardship Council certified sources.
"We hope this novel solution will be well received and that this project will be a tipping point for the adoption of bio-based packages in this segment. We know that alternatives based on renewable materials are needed," said Steve Davey at Huhtamaki.
"Both producers and consumers are demanding alternatives to plastic packaging. The material Durapulp is a renewable alternative and suitable for sensitive substances such as food," said Catrin Gustavsson, Senior Vice President of Innovation and New Business at Södra.
Huhtamaki has developed this new packaging concept in partnership with Södra and Saladworks in an EU-funded project called FRESH. The FRESH-project will continue until 2020.
For more information follow the FRESH project at http://www.huhtamaki.com/web/fresh