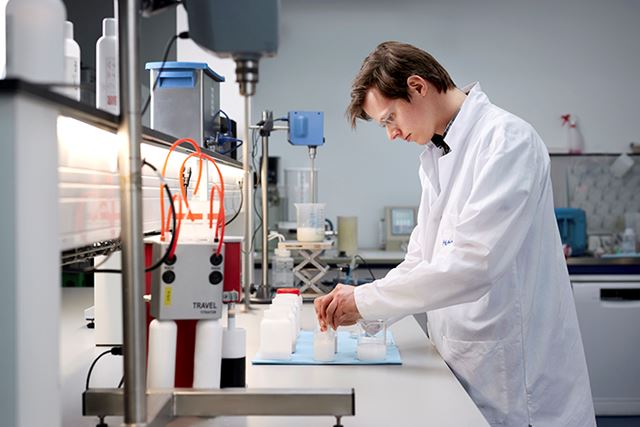 Fiber packaging has existed for years, but what difference do we make? At Huhtamaki, we innovate to make the most of this natural material, elevating it through our cutting-edge technology capabilities. What brings material and packaging innovation to life is our people. Their knowledge, expertise and passion reflects in the work they do each and every day to design the fiber packaging of the future.
"Fiber is the material of the future because it is adaptable, endlessly versatile and fully recyclable. It is much stronger than you can imagine," says Wouter Kienstra, Process and Product Development Manager at Huhtamaki. "To be able to innovate it, you have to acknowledge that fiber works in a completely different way compared to normal metals or plastics."
At Huhtamaki, we take this renewable material to a whole new level with our high precision technology – in partnership with our customers. We use both sustainably sourced virgin fiber and recycled fiber in our different packaging solutions – always choosing the material that best fits its application. Combining our expertise, deep understanding of the industry, and consumer needs, we discover the solutions to redesign the fiber packaging of tomorrow.
Sanne Tiekstra, Innovation Program Manager at Huhtamaki, says that customers often request for final solutions that are equal to or even better than their current plastic-based solutions. Sanne and her team focus mainly on product and process development. Looking at both aspects in innovation enables the unit to adopt a truly holistic approach, testing and validating the entire solution at different levels to be able to answer the demands and desires of the customer.
"Take for example our Fresh tray used for ready meals – it has to be ovenable and microwavable, and the barrier must be able to withstand those temperatures. In addition, it should have an oxygen barrier to keep and maintain shelf life in the store. By using fiber-based products, recyclability becomes another key advantage," she states.

There's huge potential when it comes to developing innovative fiber packaging and we believe Huhtamaki's Fiber Solutions have the power to redesign the future.
Find out more about Huhtamaki Fiber Solutions - The Future Redesigned