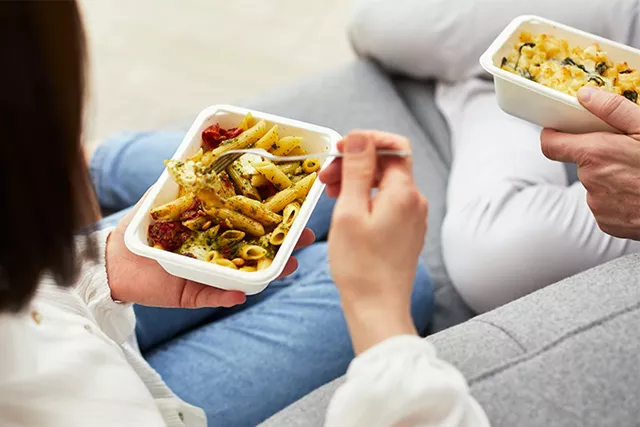 Seemingly designed for hurried 21st century lifestyles, pre-cooked convenience foods have had an enduring history. Forecasts predict that they're here for the long run.
Ready meals are essential for many modern households, where working professionals, families, and students are notoriously strapped for time. Convenient and available, ready meals are a safe and affordable alternative. It's no surprise that the global market for ready foods – pre-cooked meals needing minimal preparation – is worth tens of billions of euros. Huhtamaki has been in the business for decades, from producing an iconic Finnish ready meal, Jalostaja's pea soup, to providing ready meal packaging in many shapes and forms.
Soldiers' C-Rations
Some of the earliest convenience foods were canned foods developed for the military. Easy to transport and prepare, canned meat and stew were among the rations distributed to sustain United States troops in the First World War. Canned food was used even more widely to provide soldiers with square meals during World War II. At first, C-Rations, as they were called, usually contained corned beef or stew. Later, other dishes like pork and beans and spaghetti in meat sauce were added to the range.
The making of a Finnish staple
In 1941, Huhtamaki, then a confectionery factory, had recently merged with Jalostaja, a company producing preserved foods in Southwest Finland. As part of the war effort, businesses were asked to help supply the army with food. So, Jalostaja began to offer the first canned goods in Finland. Canned vegetables were introduced to Finnish shops in 1948, followed shortly by canned fish.
Jalostaja's pea soup, a staple in Finnish pantries to this day, was born in 1952. The soup was an immediate success. In the 60 years or so that would follow, Jalostaja would produce more than 300 million cans of pea soup. As recently as 2013, even restaurant critics chose the ubiquitous yellow tin as among the best ready foods in Finland.
TV Dinners win America's heart
Ready meals took a leap forward in the 1950s, when American food company Swanson & Sons brought them closer to the form found in many freezers today. After disappointing Thanksgiving sales in 1953, the business found itself with a massive stock of excess turkey, leading a salesman to devise the pre-cooked meals as a way to use up the leftover meat. Packed in aluminum trays, inspired by those used to heat and serve meals in airline cabins, the ready meals were created to be sold in supermarkets for reheating at home. TV Dinners, as Swanson marketed them, were meant to be eaten in front of the television – another recently popularized innovation of the time. The original Swanson's TV Dinner featured turkey with cornbread stuffing, sweet potatoes and buttered peas. Their popularity was instantaneous, and Americans bought ten million units in the first year alone. In the US today, the term TV Dinner is synonymous with any packaged dish or meal that is sold chilled or frozen for consumption at home.
Family life evolves
As the number of women working outside the home rose steadily throughout the 1970s, '80s and '90s, more and more households counted on ready meals to bring warm, tasty dinners to the table with minimal time and fuss. Fast forward to today ­– ready meals offer a broader array of flavors and cuisines than ever before.
According to the report "Global Ready Meals Market – Opportunities and Forecast", growing populations, urbanization and cost-effectiveness are factors that have driven the growth of ready meals market. Consumers' appetite for ready meals continues to increase, and the market is expected to expand at a rate of at least 10% per annum.
Healthier and more sustainable alternatives
Key trends driving development in ready meals are new, healthier options, as well as organic, vegan, and gluten-free options. Ground-breaking advancements in low carbon packaging are further optimizing products' quality and shelf life. One such innovation is Huhtamaki Fresh, a recyclable and home compostable food tray, made from wood sourced from FSC certified and renewable Nordic forests. It is a natural alternative to black plastic ready meal trays. Solutions like Huhtamaki Fresh have an important role in shaping the sustainable future of everyday life.
References:
Allied Market Research. "Global Ready Meals Market – Opportunities and Forecast (2017-2023)". August 2017
Jussila, Matti, et al. "Merchant ships, mobile phones and medicaments: A story of industry and know-how in Southwest Finland throughout time". Turku Region Development Centre. September 2014.
"The rise of ready meals and how convenience food changed our lives", Wiltshire Farm Foods, 28 May 2018
Vergun, David. "'C-Rats' Fueled Troops During and After World War II.", U.S. Department of Defense, 13 August 2019