Business strategy
Shaping the sustainable future
At Huhtamaki, we are for shaping the sustainable future of everyday life to offer wellbeing, convenience and responsible lifestyle to billions of people everywhere. Our ambition is to become the first choice in sustainable food packaging.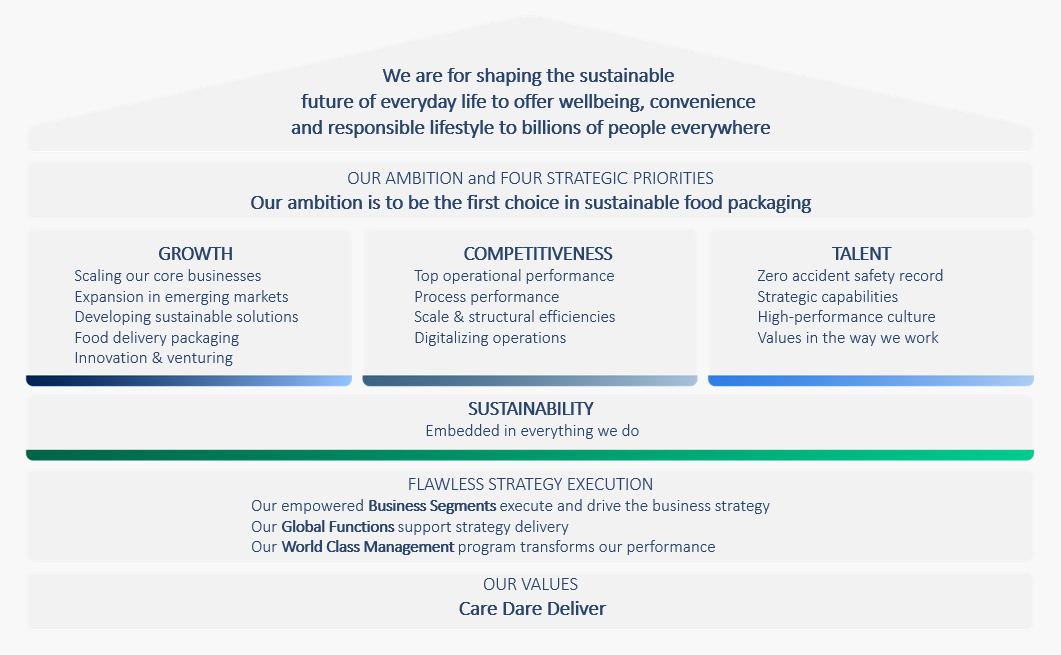 Four transformational trends
We live in a changing world and the future of food packaging is impacted by four transformational trends.
Middle class: The next billion consumers will come from the emerging markets.
Future consumer: Consumers of the future will require packaging to be innovative, individual and sustainable.
Digitalization will influence packaging and the way we do business.
Sustainability will drive innovation and collaboration.
Strategic priorities
When looking into 2030, our strategic priorities are
Growth through organic investments, M&A, innovation and venturing in core areas and emerging markets
Competitiveness through scale and performance, and digitizing our operations
Talent through developing strategic capabilities and high-performance culture
Sustainability through an ambitious agenda and innovation
We are grounded in our values
Care We care for each other, our customers, partners and communities. We care for the future of our planet embedding sustainability in everything we do.
Dare We dare to innovate, grow and have an impact. We are a diverse and entrepreneurial team seeking new opportunities with our customers.
Deliver We commit and deliver solutions to our customers, with integrity and as a team. We are ambitious and strive for high performance.