Engaged and motivated employees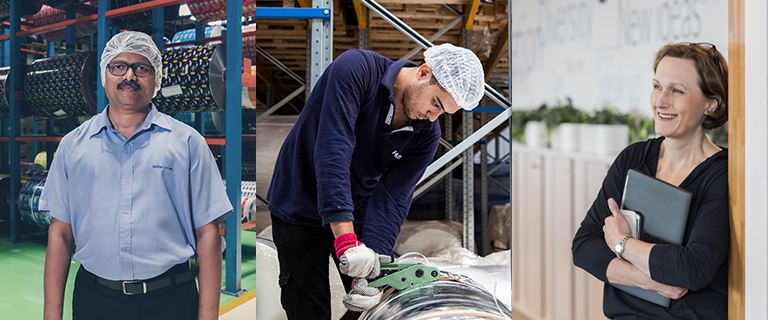 The Huhtamaki of today is the result of over 100 years of long history, rooted in Finland and shaped by a diverse workforce of more than 19,000 talented professionals around the globe. We operate in 37 countries and employ people of more than 80 different nationalities. We embrace diversity and provide an inclusive workplace where every individual can bring their whole self to work.
At Huhtamaki, we focus on creating a safe, engaging and inclusive high-performance culture by encouraging our employees to act according to our values – Care Dare Deliver.
Guided by our values and our Global Code of Conduct
Our values - Care Dare Deliver - and our Code of Conduct guide us in everything we do. The way we work is also guided by our global policies and procedures, to ensure a consistent employee experience across the organization. Our global Employment Guidelines, Group Occupational Health and Safety policy, our global Working Conditions Requirements on ethics and an increasing number of globally leveraged people processes and practices provide consistency and transparency across our entire organization, across business segments and regions.
Creating a positive employee experience
Developing our diverse talent is core to our 2030 Growth Strategy. The key to our future success is our ability to build the competencies and capabilities of our employees and People Leaders so that they can thrive in their roles today and in the future. By investing in the continuous development of our people, we nurture a high-performance culture and aim to provide for a unique employee experience.